This last Christmas, our family experienced what we considered to be a miracle, and I thought I'd share it here on our blog, if for no other reason, so that we would have a record of it.  It's a pretty special family story that we will always treasure!
 A Giant Step Backwards…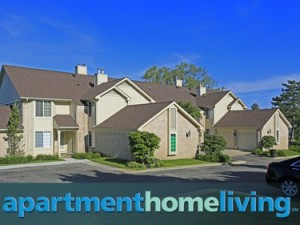 When we first moved to Michigan in the summer of 2014, we had no idea how long we were going to stay. So naturally, buying a house didn't make sense. What we found, however, was that renting a house wasn't going to be easy.
Carina arrived here first.  She started clinical rotations while the kids and I stayed behind in Minnesota so Tanner could finish his baseball season and we could pack up the house and move.  While she was here alone, she bunked with a friend and classmate, and spent her evenings house hunting.
We had some criteria and standards.  We wanted to be in a certain school district.  We wanted to be in a certain ward.  (It's a Mormon thing.)  And we needed (or, strongly wanted) a certain number of bedrooms and bathrooms.
By the time we added all of these up and found houses that met all the criteria, we simply couldn't afford them.
It got discouraging fast. After an exhaustive search, we did something we had originally told ourselves we would NOT do: We rented a condo.  (Ok, it was really just a multi-level apartment, but it made us feel better to call it a condo.)
Probably on purpose, I never took many photos of the place, so I can't share them here.  But I did go online and find a few generic pics of the complex.  As far as a condo / apartment complex goes, it wasn't horrible. And it did meet all of our criteria… In the right school district, In the right ward, Had enough bedrooms and bathrooms, and was in our price range.
So, really, we were grateful. But it was sure a giant step backwards from our beloved St. Cloud home with it's wooded backyard, and all the friends and neighbors we had come to love over the ten years we lived there.
After a year, living in this place began to take a mental toll.  Carina and I noticed that Andi and Tanner never wanted to invite friends over.  When we entertained, it was cramped and awkward. And more importantly, we could hear the neighbors fighting constantly, we had to call the cops on them a few times, and all the other joys of apartment life.
The clincher came when (and I don't mean to treat this lightly) our neighbor directly above us committed suicide.
We knew it was time to move. Probably even past time.
A Promise…
Towards the end of summer (2015), a year after we moved here, Carina and I acted on what we felt sure was inspiration, and we promised the kids we would be in our very own home by Christmas. And as soon as I said that out loud, I felt sick. There was no way, I thought, we could ever make that happen.  But also, as soon as I said it, I knew we had better do everything in our power to keep the promise, because it had been made, and the impact on the kids was visible.  You could see it in their eyes and on their faces. Tanner even started to cry.
House Hunting, and The Doctor Loan
By the time school started in September, the hunt for a house had reached a fever pitch. We were running our poor realtor ragged, dragging him all over town and looking at an endless stream of houses. (By the way, we highly recommend Evan.)  The problem was, we are all incredibly stubborn, opinionated, and outspoken, and it was impossible to find a house we all liked.
Another huge obstacle was that we had no money for a down-payment.  Like Zero. None. Medical school had drained all of our savings.  We were putting a LOT of our hopes in a program called a Doctors Loan. Some banks allow doctors, even in residency, to purchase a house with no down payment and no PMI.  The only problem was, Carina would not start residency until July of '16, and we wanted to be in house by Christmas of '15.
Our harebrained, crazy, long-shot plan was to find some sellers who might be willing to rent to us for the first few months, and then let us buy the house once we qualified for a doctor's loan in July.  We knew the chances were slim, but we went forward anyway.
1566 Forest Bay Court…
We had already looked at too many homes to count. We had put in an offer on a house we all loved, but it was rejected and we were unable to come to an agreement with the sellers. We were all weary and tired of house hunting.
The first time I looked at the house that would become our home, I wasn't thrilled.  I wanted nice, but I also wanted humble. This house was nice, but it was also a little too "look-at-me!" for my taste. Too ostentatious, I thought. Yet when I first stepped out of our minivan in the driveway, something odd happened.
I felt… (and I don't know how to say this without sounding cheesy)… I felt a surge of energy. I wasn't looking for any kind of cosmic or spiritual confirmation, but what I felt was undeniable.  "This is it!" I thought.  "This is going to be our house!"
And then we went inside… and we hated it.
Okay, "hate" is a strong word.  But we most certainly didn't love it.  Or even like it. I won't bore you with details, but suffice it to say that none of us were thrilled with it. It did have an incredible back yard, and the neighborhood was beautiful.  And… it was already vacant, which meant the sellers might be willing to rent to us.  But, there was too much else we didn't like.
"I guess I was wrong" I thought.  And we kept looking.
Yet nothing we saw felt right, and after a few more houses, we asked our realtor to set up another showing.  And a few days later we asked for a third showing.
In the Mean Time, Life Changed…
While all of this was happening, we were also dealing with the major curve ball life had thrown our way.  I talked about it in the blog post "It's All About Family".  One of the huge impacts of Carina's decision to take that residency offer and start in January instead of July, is that… well… she started in January instead of July.
By early December, she had a contract from Beaumont.  We RAN that contract straight to the bank, showed it to the mortgage guy, and after the usual credit check, he pre-approved us for enough to buy this house… BUT, not until she started in January.  And not until all the paperwork was complete, which would take at least 30 days.  Meaning, we could not close on the house until the end of January or early February.
And we had promised our kids a house by Christmas.
So we asked… Would they be willing to rent to us until we could close? And would they be willing to let us move in before Christmas? (It was now the first week of December.)
To our surprise, they said "Yes" and "Yes"!!
Moving Day — Two Days before Christmas!
I'm leaving out a ton of details that you don't care about.  Stuff like we had to get the home inspected, and getting it inspected before Christmas was a long shot that required a rush-request.  And then once we had the inspection we had to renegotiate on the price… again. Tons of back-and-forth.  And then, after initially saying "Yes" to letting us rent, the husband changed his minds and said, "No".  It was starting to look this the entire deal was going to fall apart.
Our realtor told the seller's realtor that if we couldn't rent, then we would not buy the house.  Their realtor talked to the sellers, and the wife soothed the fears and concerns of her husband.  Then, finally, on December 22nd, we got the official "Go-Ahead!"
Against all odds, and thanks to Carina starting residency early (along with a few other miracles that fell into place in the final hour…) this was actually going to work!  Come Christmas morning, we would be in our home!!
On the evening of December 23rd, with literally no notice, a small army of friends from church showed up, and in the middle of a torrential downpour of cold December rain, they moved us out of our condo, and into our house. These were people who only a year-and-a-half ago had helped us move in to the condo, and now they were here, in even greater numbers, helping us move again… with literally only hours to go before Christmas.
Gratitude for New Friends, and for Miracles… 
The surge of gratitude for all the help was immense!  As was the gratitude we felt for all the miracles that literally lined up so that the promise we made to our kids of a house by Christmas could be fulfilled.
This was a Christmas none of us will ever forget.